Bilberry Extract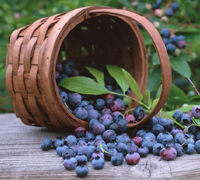 Bilberry
is a relative of the blueberry, and its fruit is commonly used to make pies and jams. It has been used for nearly 1,000 years in traditional European medicine. Bilberry grows in North America, Europe, and northern Asia.
Product Name: Bilberry P.E.Used
Part: FruitBotanical
Source: Vaccinium myrtillus
Active Ingredient: Anthocyanidin
Specification: 25%
Assay: UVC
Haracters: Deep purple fine powder,taste sweet and sour .
Function
1: Increasing urine,diminishing inflammation
2: Curing acute cystitis,urinary tract infection
3: Anti-aging4: Acute rheumatic arthralgia
Applicable Industries: Food, cosmetics and drugs.
Package: Packed with double plastic bags directly and with an Aluminum foil bag or Drum external (25kg/Drum)Expiry Time: 2 years
Suggested Applications:
Historically, bilberry fruit was used to treat diarrhea, scurvy, and other conditions. Today, the fruit is used to treat diarrhea, menstrual cramps, eye problems, varicose veins, venous insufficiency (a condi­tion in which the veins do not efficiently return blood from the legs to the heart), and other circulatory problems. Bilberry leaf is used for entirely different conditions, including diabetes.