Ethyl Vanillin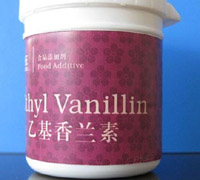 Ethyl Vanillin
is white to light yellow needle crystal or crystalline powder, similar to the aroma of vanilla beans. The food additive industry indispensable raw material, its aroma is 3-4 times of vanillin, with a rich aroma of vanilla beans, and fragrant lasting.
Ethyl Vanillin is widely used in food, chocolate, ice cream, beverages and daily cosmetics and aroma from the incense set role. Ethyl Vanillin can also do other feed additives, electroplating industry, brightening agent, intermediate for the pharmaceutical industry.
Specifications: Confirm to BP, FCC, USP,QBT1791 standard.
Appearance: White crystalline needles or powder.
Odder: Similar to
Vanillin
Purity(by GC): ≥99.5%
Melting Point: 76.0~78.0℃
Solubility: 1g sample can completely soluble in 2ml 95% ethanol makes transparent solution.
Loss on Drying: ≤0.5%
Arsenic Content: ≤3 mg/kg
Heavy Metal(Pb): ≤10 mg/kg
Uses:
Ethyl Vanillin
can be used as food additive in making food ,wine and tobaccos, also it is a fine chemical product.
Packing and Expiry Lifes: 20Kg or 40 Kg cartons, Expiry life is 2 years (under suitable storage condition).